Mission
The mission of The Disaster and Emergency Management Authority (AFAD) is:
"To carry out the necessary studies for the effective management of processes related to disasters and emergencies, to ensure coordination between relevant institutions and organizations and to produce policies in this field".
AFAD works to prevent and mitigate disasters, respond to disasters and complete post-disaster recovery efforts quickly.
Flexible, dynamic,versatile, multi-actor authority structure based on:
- Providing rational resource use
- Prioritizing interdisciplinary work
Among all the institutions and organizations of the country, AFAD supports the following:
-Planning
-Orientation
-Supporting, coordinating and effectively implementing the necessary activities in the disaster field
Disaster Reduction Goal
To adopt and settle the risk-focused integrated disaster management approach to all sectors
Policies and Programmes in DRR
*The work on developing the roof certificate of our disaster management system, Disaster Management Strategy Document and Action Plan of Turkey (TAYSB) continues.
*National Disaster Response Plan of Turkey (TAMP) was prepared to be able to carry out the intervention activities effectively and quickly after any disaster that may ocur. (2014)
*Disaster Risk Reduction Plan of Turkey (TARAP), which is a plan that explains what, when, by and how to take disaster risks and to prevent and mitigate these risks by taking all kinds of precautions, is in the preparation process also.
*Provincial Level of Disaster Risk Reduction Plan (?RAP) preparations are also continuing.
Websites
http://www.afad.gov.tr
Üniversiteler Mah. Dumlupınar Bulvarı No: 159 06800 Çankaya/ Ankara Ankara Turkey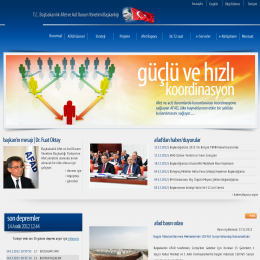 Badges
Conferences:

- UNISDR Science and Technology Conference
- 2017 Global Platform
- 2018 EFDRR