Mission
Co-Action Nepal works with local community, policy makers and academicians for well-being of humanity through community sensitization, research, and media backing, lobbying in changing policy decisions and sharing good practices from the world.
Disaster Reduction Goal
Reduce the risk of climate change and disaster vulnerable communities through awareness on preparedness, mitigation,response including policy advocacy.
Policies and Programmes in DRR
SURAKSHIT SAMUDAYA II: Building disaster resilient communities, Nepal.
Publication and moderating an online newsletter on disaster information www.nepaldisaster.org
Making disaster risk reduction a policy priority, institutional strengthening (HFA 1)
Interaction with CA members on DRR and HFA.
Consultation Workshops for Journalist on DRR and HFA.
Interaction with GO and NGO officials on DRR and HFA.
Risk assessment and early warning systems (HFA 2)
NA
Education, information and public awareness (HFA 3)
Publication HFA book in Nepali.
Publication of DRR Tool Kit for CA members.
Awareness rally, Campaigns etc.
Reducing underlying risk factors (HFA 4)
NA
Preparedness for effective response (HFA 5)
online newsletter publication on disaster updates in Nepal.
Disaster Risk Reduction Focal Point(s)
Anal Dhungana
Websites
http://www.nepaldisaster.org
Deepak Acharya Executive Director Thirbam Sadak 1151, Maharajgunj OR Bharatpur, Chitwan 44600 Kathmandu Nepal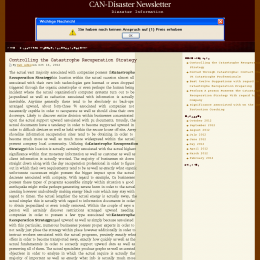 Badges