Mission
Royal HaskoningDHV is an independent, international engineering and project management consultancy with over 130 years of experience.
We are a people-to-people company. In partnership with our clients, we create solutions for the sustainable interaction between people and their environment.
Disaster Reduction Goal
We focus on delivering added value for our clients while at the same time addressing the challenges that societies are facing. These include:
- the growing world population and the consequences for towns and cities;
- the demand for clean drinking water, water security and water safety;
- pressures on traffic and transport; and
- resource availability and demand for energy and waste issues facing industry.
Policies and Programmes in DRR
Royal HaskoningDHV provides services that cover the whole flood risk management cycle, from concept to feasibility, impact assessments, design, tender process, site supervision and operation and maintenance. Specific products are:
- integrated flood risk management plans;
- safety level and flood risk assessments;
- hydraulic & hydrological modelling;
- design of structural measures;
- monitoring and early warning measures; and
- environmental and social impact assessments.
Membership in Key Networks
Civil and Environmental Engineering
Water Engineering
Hydraulic Engineering
Integrated Flood Risk Management
Hydraulic Modelling
Hydrological Modelling
Flooding
Flood resilience
Flood Risk Assessment
Flood Protection
Coastal Risk Management
Urban Drainage
Urban Risk Reduction
Urban Resilience
Risk Identification and Assessment
Risk assessment and early warning systems (HFA 2)
Hurricane or Storm Atlas, Flash Flood forecasting app., National Rain Gauge app
Education, information and public awareness (HFA 3)
Water Planning and Strategies, Water Security, Water Resilience.
For example:
- Greater New Orleans Urban Water Plan - http://livingwithwater.com/
- Rebuild By Design - http://www.rebuildbydesign.org/
Reducing underlying risk factors (HFA 4)
Flood Risk Assessment using hydraulic and hydrological modelling. Coastal Erosion Risk Assessment using coastal process modelling. Environmental impact assessment and sustainability assessment. Social Impact and Social Business Case development. Eco systems services
Other activities
Our value set inherently supports the Hyogo Protocol because we focus our area of 4 Global Challenges - Industry, Transport, Urban, and Water - all of which are essential to ensure resilience of cities.
World Bank research shows that 90% of urban disasters are water related and as such our leading position as a water consultant puts in an ideal position to address this challenge.
More information can be found at: http://www.royalhaskoningdhv.com/en-gb/sustainability/our-story-enhancing-society-together
One of our leading experts in Water Resilience in Urban Areas, Nanco Dolman, has already provided insight for Prevention Web:
Guest Editorial - https://www.preventionweb.net/experts/guest/collection/4553
Expert of the Week - https://www.preventionweb.net/experts/ask/session/46333
Disaster Risk Reduction Focal Point(s)
Private Sector Alliance for Disaster Resilient Societies (ARISE) providing services in three Themes:
- risk management strategies
- investment metrics
- urban risk reduction & resilience
Websites
Main website:
http://www.royalhaskoningdhv.com/en-gb
Our Story Enhancing Society Together:
http://www.royalhaskoningdhv.com/en-gb/sustainability/our-story-enhancing-society-together
Flood Risk Management Modelling and Design:
http://www.royalhaskoningdhv.com/en-gb/services/flood-risk-management-modelling-and-design/769
Press release:
http://www.royalhaskoningdhv.com/en-gb/news-room/news/royal-haskoningdhv-joins-the-united-nations-drr-psp/4258
Guest Editorial:
https://www.preventionweb.net/experts/guest/collection/45532
Expert of the Week:
https://www.preventionweb.net/experts/ask/session/46333
Postbox 1132 3800 BC Amersfoort Netherlands, the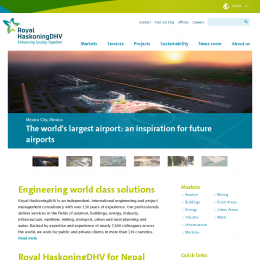 Badges