Mission
Zoï Environment Network (Zoï) is a non-profit organization that helps building sustainable societies through informed analysis, visual communication, design and action.
We provide expert services on analysis, communication, dialogue and training, with a focus on our key themes: climate change, security and conflict, chemicals and waste, water, biodiversity, and access to information.
Zoï provides support to and collaborates with many multilateral and bilateral development agencies, global environmental agreements, regional organizations, NGOs and consulting companies.
Disaster Reduction Goal
Environmental challenges can cause security concerns both between and within countries. Addressing these risks has been one of central elements of Zoï's work to-date. Through innovative analysis, participatory mapping and visualization, we have contributed to regionally and globally recognized flagship assessments on the environment-security interface.
Membership in Key Networks
Member of Swiss NGO DRR Platform
International Environment House II, Chemin de Balexert 9 CH-1219 Châtelaine (Geneva) Switzerland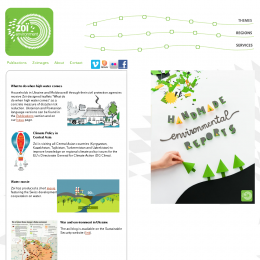 Badges
Conferences:

- 2019 Global Platform