Mission
IVM is an interdisciplinary research institute at VU University that sits within the Faculty of Earth and Life Sciences (FALW). IVM is the oldest academic environmental research institute in the Netherlands. Since its creation in 1971, it has built up considerable experience in dealing with the complexities of environmental problems.
Its multidisciplinary research is organised in four departments: Chemistry and Biology, Environmental Economics, Environmental Policy and Governance and Spatial Analysis and Decision Support. Researchers also participate in twelve thematic research clusters. Teaching activities are coordinated by the Graduate Studies Team.
Disaster Reduction Goal
IVM contributed to many disaster risk related research projects, including the EU projects ADAM, RESPONSES, NEWATER, ALARM, and AQUAMONEY, as well as Dutch government funded projects including ADAPTS, NCIP, ACER and major research programmes 'Climate Changes Spatial Planning' and 'Knowledge for Climate'. IVM worked together with the European Commission to develop their Green Paper on Adaptation. IVM is part of the EU CONHAZ project on establishing a network of Natural Hazard science.
Membership in Key Networks
Various researchers of VU-IVM have contributed to the IPCC process as reviewer and author for Working Groups II and III.
Websites
http://www.ivm.vu.nl
Vrije Universiteit Amsterdam, De Boelelaan 1085 1081 HV Amsterdam Netherlands, the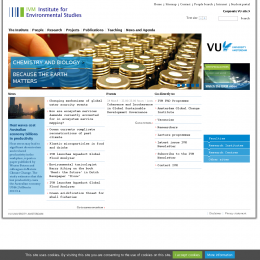 Badges