Mission
UNSW CCRC is a multi-disciplinary research group comprising one of the largest university research facilities of its kind in Australia.
CCRC houses research expertise in the key areas Earth's climate: atmospheric, oceanic and terrestrial processes. We apply basic scientific principles to pressing questions on climate dynamics, global climate change, and extremes of weather and climate. Our atmosphere research includes studies of convection, radiation, climate feedbacks, and factors controlling precipitation changes and other meteorological impacts. Our oceans program involves large-scale physical oceanography, coastal ocean circulation, palaeoclimate dynamics, oceanic thermohaline circulation, wave breaking and global biogeochemical cycles. On the land surface, we focus on modelling terrestrial processes in climate models, to develop our understanding of the effects of carbon dynamics, hydrology and vegetation processes on climate.
Scientists at CCRC employ a variety of research tools including global and regional models of the atmosphere, ocean and land surface, coastal domain simulations and process models. We also use a great variety of data collected from satellites, weather stations, ships, eddy-flux towers and aircraft from regions as diverse as the Great Barrier Reef, the tropics, urban surfaces, the Tasman Sea and Antarctica.
Level 4, Matthews Building, University of New South Wales 2052 Sydney, NSW Australia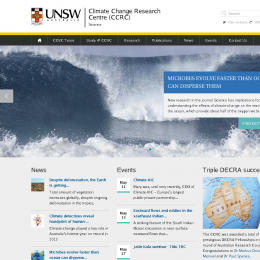 Badges