Mission
NSET is a community of Nepalese professionals belonging to various technical and social aspects of earthquake disaster management. NSET strives to assist all communities in Nepal to become more earthquake safe by developing and implementing organized approaches to managing and minimizing earthquake risks.
Disaster Reduction Goal
NSET envisions Earthquake Safer Communities in Nepal by 2020
Policies and Programmes in DRR
All of NSET's projects and programs are towards DRR
Besides NSET is the Regional Coordinating Organization (RCO) for South Asia and the National Coordinating Organization (NCO) for Nepal, for the Views from the Front line Project which aims to measure the progress towards the implementation of HFA at the local level.
Membership in Key Networks
NSET is the national member of the International Association for Earthquake Engineering (IAEE). Since 1993, NSET has been a member of the World Seismic Safety Initiative (WSSI). It organized the High Level Meeting of WSSI in Nepal in 1993, even before the official registration of the organization. It is also a member of various disaster reduction networking groups worldwide. We are the Founder Member and a Board Member of the Asian Disaster Reduction and Response Network (ADRRN), a Founder Member of the Coalition for Global School Safety (COGSS), a Founder Member of the International Live Lessons Transfer Network (TeLLNet), Founder Member of the Disaster Preparedness Network Nepal (DPNet) and a member of a host of other networks as well as national and international technical committees.
Making disaster risk reduction a policy priority, institutional strengthening (HFA 1)
• Nepal Earthquake Risk Management Program II (NERMP2)
with an objective to improve seismic safety of public schools, residences and public infrastructures institutionalize earthquake risk management in Kathmandu, provide technical assistance to the municipalities for implementing seismic building code, 2011-2014
•Promoting Public Private Partnership for Earthquake Risk Management in Nepal (3PERM) 2011-2014
•Development of National Strategy for Disaster Risk Management in Nepal (NSDRM) , (2006-07) - NSET provided technical assistance to UNDP in assisting the Government of Nepal in preparing the National Strategy for Disaster Risk Management (NSDRM) in Nepal based on Hyogo Framework of Action (HFA)
• Developing a Strategy for Improving the Seismic Safety of Schools in Nepal (2008-2010)
• Disaster Risk Reduction Initiatives in Kathmandu Metropolitan city (KMC) - 2006
With the funding support from German Committee for Disaster Risk reduction (DKKV) and technical support from EMI and NSET, KMC has been preparing the Kathmandu Risk Sensitive Land Use Plan and Emergency Operation Plan which aims to mainstream disaster risk reduction in the development strategies and legislations of KMC through development of a risk-sensitive land-use plan, advocacy campaigns, policy formulation, inter-institutional coordination and strengthening of local institution
• Another initiative is the Kathmandu Emergency Management that aims to enhance the institutional capacities of the city government of Kathmandu in emergency and disaster management and integrates it with the National Strategy for Disaster Risk Management (NSDRM).
• National Workshop for Preparing Framework of National Emergency Response System for Nepal
• Municipal Disaster Risk Reduction Program in Nepal (MDRIP) to strengthen the municipal capacities by institutionalization of the process of disaster risk reduction and consolidation of the build-up capacities by follow-up activities (2008)
• Housing Earthquake Safety Initiative (HESI)- assisting the Department of Urban Development and Building Construction (DUDBC) in building code implementation (2007- 2008)
Risk assessment and early warning systems (HFA 2)
• Comparative Risk Assessment (CRA) in Humla District (2009)
• Risk Mapping Program and Shelter Response Planning in Kathmandu - Nepal and Maputo - Mozambique (2008)
• Comprehensive Risk Assessment and Action Planning in Ward No 2 and 5 of Triyuga Municipality, Nepal (CRAAP) -2009
Education, information and public awareness (HFA 3)
• Preparation of Mason Training Guideline and Mason Training Manual on Earthquake Resistant Construction of Buildings
•Development and Submission of 10 days Engineer Training Manual on "Earthquake Resistant Design of Buildings/ Nepal National Building Code and its implementation"
• Development of Disaster Recovery Principles and Guidelines
• Disaster Inventory / Information Management System in Nepal
• Assessment on the Economics of Disaster Risk Reduction (2008-09)
• Global Assessment of Poverty and Disaster Risk (GAR) (2008-09)
• Training Programs on Earthquake - resistant Construction for Masons and other Stakeholders of Building Industry
• Earthquake Resistant Construction Training for Masons
•Research on Earthquake Safety of Stone Masonry Buildings
• Collaborative Research and Development on Network of Research Institutes in Earthquake Prone Countries (2007-08)
• Technical Support on Earthquake Resistant Housing Reconstruction, Pakistan (TSERR)- 2006-07
• Capacity Building and Knowledge Management: Institutionalization of Earthquake Preparedness in School of Earthquake Affected Areas of Pakistan (2005-06)
Reducing underlying risk factors (HFA 4)
• Community Based Disaster Risk Management in Nepal (CBDRMN)
•Enhancing Emergency Health and Rehabilitation Response Readiness Capacity of the Health System in the Event of a High Intensity Earthquake in Kathmandu Valley,2012
• School Earthquake Safety Program (Since 1999)
•Seismic Vulnerability Assessment of Buildings
• Disaster Risk Reduction through School Project: Supported by DFID through Action Aid Nepal (2007-2009)
• Non-Structural Assessment and Retrofit Design of Hospital buildings
• Survey of Non-Engineered Buildings in Nepal
• Seismic vulnerability Assessment of Hospitals in Nepal (2003-2004)
• Seismic vulnerability Assessment of Water Supply Pipe-networks of Kathmandu Valley (2002-2003)
• Municipal Earthquake Risk Management Project (2002-2003)
• Nepal Earthquake Risk Management Program (NERMP) (2005-0ngoing)
• Municipal Disaster Risk Reduction Program in Nepal (MDRIP) – 2008-Illam and Panauti Municipalities
• Kathmandu Valley Earthquake Risk Management Project (KVERMP)- 1997-2000
• Thimpu Valley Earthquake Risk Management Project: Seismic Vulnerability Assessment and Retrofitting of Office Buildings (2007-2008)
• Up-streaming Community Based Approaches for Promoting Safer Building Construction in Iran (2006-2007)
• Community Based Disaster Management Project (CBDMP)
• Comprehensive Disaster Management Program (CDMP), Bangladesh – (2008-2009)
• Earthquake Vulnerability Reduction and Preparedness Program (EVRP), Pakistan (2007-2009)
Preparedness for effective response (HFA 5)
• Program for Enhancement of Emergency Response II (PEER-2) 2009-2014
• Disaster Preparedness for Safer Schools in Nepal 2 (DPSS 2)
• Disaster Preparedness and Response Plan for Safe Drinking Water in the Kathmandu Valley ( 2006-2007) School Earthquake Preparedness Program in Jhapa, Rautahat and Kathmandu Valley (2006-2007)
• Project for Pre - Positioning of Emergency Rescue Stores (PPERS) -2003
• Kathmandu Valley Earthquake Preparedness Initiative (2004-2005)
• Awareness Raising and Capacity Building for Earthquake Risk Reduction
• Earthquake Awareness Camps
• Kathmandu District Level Disaster Risk Reduction Program
• Development of disaster preparedness , evacuation plans, and conduct regular disaster drills in schools through School Earthquake Safety Program
• Public Awareness Programs ( Earthquake Safety Day, Shake Table Demonstration, Mobile Earthquake Clinic, Orientation Programs, Earthquake Vulnerability Tour)
Disaster Risk Reduction Focal Point(s)
Mr. Amod Mani Dixit, Executive Director
Mr. Surya Narayan Shrestha, Deputy Executive Director
Mr. Ramesh Guragain, Deputy Executive Director
Websites
http://www.nset.org.np
http://www.nset.org.np/peer
Sainbu Residential Area, Ward 4, Bhaisepati, Lalitpur District GPO Box: 13775 Kathmandu, Nepal Kathmandu Nepal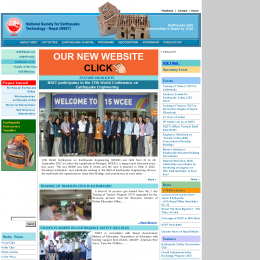 Badges
Conferences:

- 6th AMCDRR
- UNISDR Science and Technology Conference
- 2017 Global Platform
- 2018 AMCDRR
- 2019 Global Platform