Mission
The NDMC has been constituted with the objective to promote an integrated and co-ordinated system of disaster management, with a special emphasis on prevention and mitigation, by national, provincial and municipal organs of state, statuary functionaries, other role players and communities.
Disaster Reduction Goal
- To prevent, reduce and analyse impacts of disasters
- To reduce community and property vulerabilities to hazards/disasters
- To improve disaster preparedness and response
-To promote a culture of risk avoidance among stakeholders by capacitating all role players through integrated process of education, training and public awareness supported by scientific research
Policies and Programmes in DRR
- Disaster Management Act 2002
- National Disaster Management Framework 2005
- Volunteer regulations 2010
- Disaster management guidelines
- Integrated Development Planning guidelines for integrating
disaster management
Membership in Key Networks
-UNDRR
-Africa Regional Strategy for Disaster Risk Reduction
-NEPAD
-SADC Disaster Management Steering Committee
-Disaster Management Act 2002
Making disaster risk reduction a policy priority, institutional strengthening (HFA 1)
Disaster and risk management plans are developed for provinces, municipalities and sectors (public and private). The plans facilitate the integration of disaster and risk management plans within the programmes and projects of the affected disciplines. Disaster reduction and recovery issues are continually integrated into municipal integrated development plans (IDPs) in the country. This facilitates the mainstreaming of disaster risk reduction and recovery within the delivery of services for the development of communities. Although the integration happens at municipal levels, it is informed by the sectoral plans developed for providing services at national level.
Risk assessment and early warning systems (HFA 2)
As mandated by the Disaster Management Act 57 of 2002, Municipalities and Sectors have conducted Disaster Risk Assessments (DRA) for their functional areas. Disaster Management plans are in place to address the disaster risks identified by the DRA. DRAs are continually reviewed to counter the dynamic nature of disaster risks. A national indicative disaster risk profile for fires is generated seasonally. The NDMC is in the process of finalizing a national indicative risk profile for floods.
Early warning system for severe weather hazards is in place and warnings communicated accordingly.
Education, information and public awareness (HFA 3)
The National/provincial/municipal disaster management centres, sector departments and government entities have set aside budgets for risk reduction measures through education, training, public awareness and research programmes.
Reducing underlying risk factors (HFA 4)
The National/provincial/municipal disaster management centres, sector departments and government entities, NGOs and academic institutions continually embark on disaster risk reduction training, education advocacy and awareness programmes to educate communities and all stakeholders about the promotion of risk avoidance behaviours.
All disaster reconstruction and rehabilitation projects are monitored regularly to ensure their successful implementation. Project monitoring visits & evaluation meetings are held to take stock of progress with projects. This facilitates the build-back-better principle and the construction of specific hazard resilient infrastructure
The design of reconstruction and rehabilitation projects is approved by the affected municipalities and sectors to ensure that they meet technical and other related standards.
Preparedness for effective response (HFA 5)
Disaster Management plans are in place to address the disaster risks identified by the DRA.
Sector departments also have various funding packages for disaster reduction, reconstruction and rehabilitation programmes.
Additional funds are occasionally sourced from the National coffers when the sector departments do not have enough to cover their costs of recovery programmes.
Through the NDMC, the centres also administer disaster relief funds following disaster incidents.
Other activities
- Public awreness and Capacity building on DRR
- Conducting workshops to the public, schools, hospitals and parliamentarians
Making Cities Resilient Campaign Activities
The International Day for Disaster Reduction (IDDR) is commemorated annually on the 13th October.
Disaster Risk Reduction Focal Point(s)
The National Disaster Management Centre's mandate is to be a continuous and intergrated multi-sectoral, multi-disciplinary process of planning and implementation of measures aimed at:
(a) preventing or reducing the risk of disasters
(b) mitigating the severity or consequences of disasters
(c) emergency preparedness
(d) a rapid effective response to disasters
(e) post disaster recovery and rehabilitation
Websites
http://www.ndmc.gov.za
http://www.cogta.gov.za
http://www.undp.org
http://preventionweb.net
http://edu4drr.org/
http://weathersa.co.za
87 Hamilton Street, Arcadia 0001 Pretoria South Africa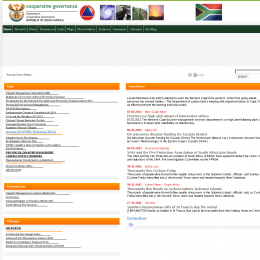 Badges