Mission
STE Group is the core of the International Resource Recovery Movement composed of business organizations, individual entrepreneurs, professionals devoted to safeguarding the environment. It was originally formed in the 1970s. The Movement went public in the decade of the 90s. Since then the movement is crossing borders, countries and continents and from the original group of thirty five is still expanding and growing.
Disaster Reduction Goal
The aim of the resource recovery movement is to help build resilient communities but most of all, to engage in activity to forestall loss of lives and property during disaster through advance preparation. Among the key components of this is aggressive geohazard mapping, hotspots tagging and relocation from the most vulnerable areas in villages, towns or states.
Policies and Programmes in DRR
Reliable Forecasting
Advanced Public Warning
Relocation
Making Cities Resilient Campaign Activities
Campaign for relocation from high vulnerability areas (2009-present). This is exemplified by resettling exposed communities in Fukushima and Sendai to safer areas.
Websites
http://resourcerecoverymovement.wordpress.com/
http://globalgeohazardsystem.wordpress.com/
http://centrehumanes.wordpress.com/
http://hmesmanila.blogspot.com/
Call or Write to: B6 L2 Quebec Street, Veraville BF Homes Las Piñas City Or: Pacific Solutions SLI 2/F Unit 7 Cityland Executive Tower IV Sen. Gil Puyat Ave. cor. P. Medina St. Makati City 1741 Metro Manila, Philippines Philippines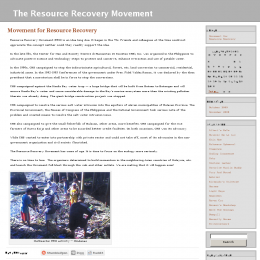 Badges