Mission
Mission East is a Danish international non-governmental relief and development organisation which works to help the vulnerable through humanitarian relief aid, development assistance, the linking of relief, rehabilitation and development and through supporting communities' capacity to organise and assist themselves.
Mission East works in response to community needs, focusing its work within its established core sectors of emergency response, WASH, food security, livelihoods, DRR and disability/inclusion. Mission East has programmes running in Armenia, Afghanistan, Iraq, Nepal and Tajikistan and works with local partners in Burma and North Korea. Projects are implemented directly by Mission East and with local partners.
Disaster Reduction Goal
Reduce communities' vulnerabilities to disasters
Policies and Programmes in DRR
* building local capacity to respond to and mitigate natural hazards with a grassroots CBDRM 'bottom up' approach.
* promoting a culture of safety and resilience through awareness-raising and advocacy
* structural mitigation improvements and adaptation to long term effects of climate change
* ensuring inclusion of the most vulnerable in our processes to enable their full participation and adapted support during CBDRM activities
Membership in Key Networks
* EU-CORD
* Integral Alliance
* VOICE
*CONCORD
Making disaster risk reduction a policy priority, institutional strengthening (HFA 1)
* Contribute to national DM policy review with an emphasis on inclusive and community-based DRR (Nepal)
Risk assessment and early warning systems (HFA 2)
* Design Comparative Risk Assessment for rural areas (Tajikistan)
* Implement risk assessment in more than 300 communities (Tajikistan, Nepal)
Education, information and public awareness (HFA 3)
* Earthquake non-structural mitigation awareness
* Community risk mapping and DRR planning
Reducing underlying risk factors (HFA 4)
Creation of Village Disaster Management Groups (Tajikistan, Nepal)
Preparedness for effective response (HFA 5)
* Support to district and national level authorities to plan disaster preparedness (Tajikistan, Nepal)
* Community awareness on disaster risk reduction communities (Tajikistan and Nepal)
Disaster Risk Reduction Focal Point(s)
Peter Drummond Smith
peter.drummondsmith@missioneast.org
Websites
http://www.miseast.org
Mission Øst Skt. Lukas Vej 13 P.O. box 149 2900 Hellerup, Copenhagen Denmark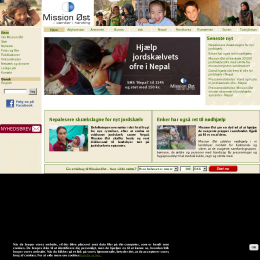 Badges