Mission
Medair brings life-saving relief and recovery in disasters, conflict areas, and other crises by working alongside the most vulnerable.
Its mission is to seek out and serve the vulnerable women, children, and men in crisis who live in often difficult-to-access regions in Africa, Asia, and other areas with extreme need.
Medair is a non-governmental organisation (NGO), with internationally recruited staff and HQ staff who are motivated by their Christian faith to care for people in need. Its work is compassionate and practical, providing life-saving care and support that upholds the dignity and independence of those served, regardless of race, age, gender, religion, or politics.
Medair is focused on using its funds with integrity, striving for maximum efficiency and accountability for all its programmes. It provides a flexible range of relief and rehabilitation services, with expertise in health care; water, sanitation, and hygiene; and shelter and infrastructure. The organisation has achieved the ISO 9001:2008 quality certification worldwide, which denotes that Medair consistently provides effective relief and rehabilitation services for the well-being of its beneficiaries.
Since 1989, Medair's work has made a profound difference for millions of people, enabling lives to be saved and sustained for a better future. Together with its donors and partners, Medair is unwavering in its commitment to bring hope to the world's most vulnerable.
Disaster Reduction Goal
Medair focuses on serving vulnerable populations in countries at risk from natural disasters or conflict, with an emphasis on emergency relief and rehabilitation. However, there are many instances where Medair has moved further along the continuum between disaster relief and development towards disaster risk reduction (DRR). Rehabilitation is part of Medair's core business, and whenever we do emergency response we also aim to implement projects with a longer-term perspective, to reduce the impact of a repeat emergency by helping to build resilience into the communities that we partner with.
Moreover, Medair recognises that during the post-disaster phase, different sections of affected populations can be at varying stages of trauma through to self-recovery at the same time, a 'contiguum' rather than a continuum, and that several approaches are required within the same emergency response and/ or rehabilitation programme, often including a DRR component. However, in line with current thinking following the Hyogo Framework for Action (2005), Medair's DRR is primarily implemented in programmes following natural disasters rather than conflict or other complex emergencies.
DRR aspects are usually included in more general projects rather than specific DRR projects and they almost always include a training component. DRR is considered in its widest sense, which can include increasing resilience at household level, community level or national level, the priority being to save lives rather than protect assets.
Policies and Programmes in DRR
Programmes in Afganistan, Haiti, and Madagascar - see weblinks below for more information
Websites
http://www.medair.org/en/where-we-work/madagascar/programme-description/
http://www.medair.org/en/where-we-
work/afghanistan/programme-description/
http://www.medair.org/en/where-we-work/haiti/programme-description/
http://www.medair.org/en/work-with-us/
Medair Headquarters Chemin du Croset 9 CH-1024 Ecublens Switzerland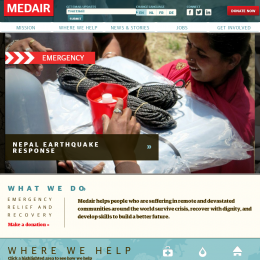 Badges