Mission
GIZ offers customised solutions to complex challenges. We are an experienced service provider and assist the German Government in achieving its objectives in the field of international cooperation. We offer demand-driven, tailor-made and effective services for sustainable development.
Disaster Reduction Goal
Our work aims to sustainably reduce risks through disaster risk management. Preventive measures must take into account different sectors and be systematically integrated into national, regional and local development strategies.
Policies and Programmes in DRR
Our advisory services: http://www.giz.de/en/downloads/giz2012-en-disaster-risk-management.pdf
Disaster Reduction Focal Point(s)
disaster-reduction@giz.de
Websites
http://www.giz.de/en/
https://www.giz.de/expertise/html/4105.html
http://www.giz.de/en/workingwithgiz/9474.html
Potsdamer Platz 10 65760 Berlin Germany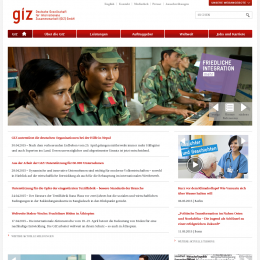 Badges
Conferences:

- AMCDRR 2016
- 2017 Global Platform
- 2018 AMCDRR