Mission
Elaboration of security measures of population and territory;
Elaboration of cvil defence measures in the territory of Georgia;
To provide of management of common warning system;
The preparation of population in the field of emergency situation.
Disaster Reduction Goal
1. The training of different purpose groups of population; 2.Emergency management response planning to all levels;
3.Organisation of structural arrangements for avoidance of emergency situations.
Policies and Programmes in DRR
PPRD, Shared Horizon, Expert-advice council
Membership in Key Networks
NATO EADRCC, UNICEF, EU MIC,BSEC, GUAM.
Making disaster risk reduction a policy priority, institutional strengthening (HFA 1)
It is exist common state system of emergency situation avoidance, which consist agencies and NTGs.
Risk assessment and early warning systems (HFA 2)
It is organizing local early warning system, established GIS technology hazard assessment system, which is providing risk assessment.
Education, information and public awareness (HFA 3)
Inculcated in Schools special subject - Civil defense and safety, which is studying in 4, 8,12 classes, as a obligatory discipline. In periodically it is possible special preparation for local authorities and volunteer rescuers.
Reducing underlying risk factors (HFA 4)
Hazardous facilities makes security declaration. It is organizing emergency management planning to all levels. In periodically is going preparation and training of fireman-rescuers.
Preparedness for effective response (HFA 5)
It is organizing proffessional preparation of Fireman-rescuer in police academy and certification of them within national legislation.
Other activities
In the Emergency Management Department established Expert-advice council, which consist scientist and experts, for prevention measures.
Disaster Risk Reduction Focal Point(s)
Giorgi Charkviani - Senior Inspector
Websites
cepgeorgia@mia.gov.ge
10, General Gia Gulua street 0114 Tbilisi Georgia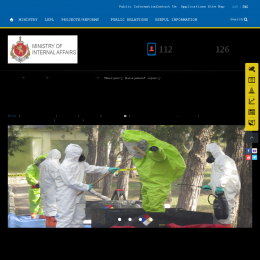 Badges