Mission
UN-OHRLLS, established by the United Nations General Assembly in 2001, advocates for the least developed countries (LDCs), landlocked developing countries (LLDCs) and small island developing States (SIDS). UN-OHRLLS coordinates and mobilizes international support and resources for the implementation of: 1) the Istanbul Programme of Action (IPoA) for the Least Developed Countries 2011 - 2020, adopted by the Fourth United Nations Conference on the Least Developed Countries in Istanbul 2011; 2) the Vienna Programme of Action for the Landlocked Developing Countries (VPoA); and 3) the SIDS Accelerated Modalities of Action (SAMOA Pathway).
Disaster Reduction Goal
Ensure that in the 2030 Agenda and Sendai Framework for Disaster Risk Reduction, the resilience of LDCs, LLDCs and SIDS – the most vulnerable countries, most prone to disasters with the least capacity to respond – is strengthened and their disaster risk is reduced. UN-OHRLLS' advocacy efforts are also guided by the IPoA, VPoA and SAMOA Pathway outcomes, as pertaining to disaster risk reduction.
Policies and Programmes in DRR
The international community acknowledges that disaster risk reduction is a priority area for action, as reflected including through the IPoA and SAMOA Pathway. The most vulnerable countries are highly susceptible to disasters, given their geographic locations and the structural constraints, handicaps and daunting reconstruction challenges they face in a post disaster and recovery phase. Thus, UN-OHRLLS continues to place high priority on this issue when advocating on behalf of these three groups of countries at national, regional and international levels.
Highlights of impact since 2011
View 2011 UN-OHRLLS DRR profile
-High level SIDS event at 2013 Global Platform for Disaster Risk Reduction co-organized with UNDRR;
-OHRLLS report on the "Impact of climate change, desertification and land degradation on the development prospects of LLDCs, 2013";
-DRR session at Private Sector Partnerships Forum, on margins of 2014 SIDS Conference;
-Inter-regional SIDS workshop on DRR held in Singapore, jointly organized with UNDESA and Singapore Cooperation Programme, 2014;
-SIDS high level side event at 2015 Third International Conference on DRR, Sendai, Japan;
-SIDS high level event at COP21, Paris focusing on building resilience to climate change impacts on small islands, 2015;
-Technical Briefing on the Sendai Framework for DRR Special Session on SIDS co-organized with UNDRR, New York, 2016;
-DRR session on SIDS during Public Private Partnerships Conference held in Aruba, co-organized with Governments of Aruba and the Netherlands, 2016;
-DRR included as one of priority areas for UN-OHRLLS SIDS Global Business Network launched in 2016;
-Expert Group Meeting on Sustainable Urban Development in SIDS, including a focus on urban resilience, 2016;
-Side event at HABITAT III conference in Quito, focusing on urban resilience of SIDS, 2016;
-Plenary Session on countries in special situations co-organized with UNDRR at 2017 Global Platform for DRR plus side event on SIDS/LDCs;
Membership in Key Networks
Senior Leadership Group on Disaster Risk Reduction
National Counterpart
Collaborates with national focal points in the LDCs towards implementation of the Istanbul Programme of Action.
Disaster Reduction Focal Point(s)
Mr. Damien Sass, Public Information Officer: (sass@un.org)
405 East 42nd Street 10017 New York City United States of America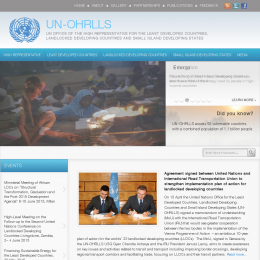 Badges
Conferences:

- 2017 Global Platform
- 2019 Global Platform