Mission
Founded in 2003, DARA is an independent organisation committed to improving the quality and effectiveness of aid for vulnerable populations suffering from conflict, disasters and climate change.
DARA has recognised expertise in providing support in the field of humanitarian aid as well as climate change and disaster risk reduction management. We have conducted
evaluations of humanitarian operations in over 40 countries across five continents for a variety of government, United Nations and European Union gencies, as well as other major international humanitarian organisations, such as the Red Cross/Red Crescent Movement.
Membership in Key Networks
- ALNAP, Active Learning Network for Accountability and Performance
- ICVA, International Council of Voluntary Agencies
- GCCA, Global Campaign for Climate Action
Websites
http://www.daraint.org
Felipe IV, 9 - 3º Izquierda. 28014 Madrid Spain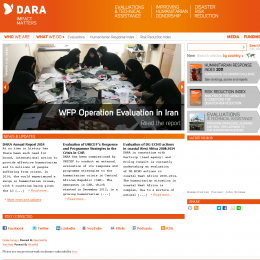 Badges