Mission
Founded in 1962 under the auspices of the FAO. We campaign against worldwide hunger and for sustainable food and nutrition security. This involves promoting site-appropriate farming, guaranteeing access to clean water, a modern, environment-friendly energy supply and improving healthcare and education.We work above all in rural regions.
Our vision is a world in which all people can exercise their right to lead a self-determined life in dignity and justice, free of hunger and poverty.
Our actions are guided by a belief in the equality of all people, the inviolability of their rights and their right to self-determination. People with whom we work are partners who strive to achieve social changes. We treat them with respect, a sense of solidarity and compassion.
Our activities aim to sustainably improve the lives of generations to come, in a healthy environment and a just society. We want to become superfluous. We therefore share the goal with many people who are committed to development cooperation that one day development cooperation will no longer be necessary and that people in these countries will be able to adequately help themselves.
Disaster Reduction Goal
We understand Disaster Reduction as a pre-condition for sustainable devlepoment.
Main Focus of Welthungerhilfe:
- Reduction of the underlying risk factors
- Strenghtening disaster prepardeness for effective response
Policies and Programmes in DRR
Welthungerhilfe considers Disaster Risk Reduction and Climate Change adaptation as cross cutting issues in all of its humanitarian and development operations.
Membership in Key Networks
German Committee for Disaster Redution (DKKV)
Climate Action Network Europe
Allliance 2015
Active Learning Network for Accountability and Performance in Humanitarian Action - ALNAP
Bündnis Entwicklung hilft
Committee on World Food Security/FAO
CONCORD
Global Humanitarian Platform
ICVA
VENRO
VOICE
Making disaster risk reduction a policy priority, institutional strengthening (HFA 1)
Community participation
Risk assessment and early warning systems (HFA 2)
Risk assessments / risk mapping
Early warning systems
Education, information and public awareness (HFA 3)
Networks across disciplines and regions
Use standards ISDR terminology
Incluson of DRR into school curricula
Trainign and learning on DRR
Public awareness and media
Reducing underlying risk factors (HFA 4)
Sustainable ecosystem and environmental management
DRR strategies integrated within cliamte change adaptation
Foods security for resilience
Vulnerability reduction with diversified income options
Land use planning
Rural development plans and DRR
Preparedness for effective response (HFA 5)
Disaster management capacities
Other activities
Susatinable food and nutrition security
Disaster Response
Inclusive sustainable Development
Bufferzone - Management
Lobby and Advocacy activities in Germany related to our humanitarian and development work and policy issues.
Disaster Risk Reduction Focal Point(s)
katrin.radtke@welthungerhilfe.de
michael.kuehn@welthungerhilfe.de
robert.grassmann@welthungerhilfe.de
Websites
http://www.welthungerhilfe.de
http://www.dkkv.de
Friedrich-Ebert Str. 1 53173 Bonn Germany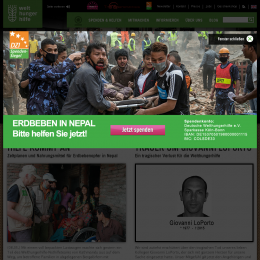 Badges
Conferences:

- 2019 Global Platform