Mission
OIC is a large inter-governmental organization which has membership of 57 states spread over four continents. OIC is the collective voice of the Muslim world and ensuring to safeguard and protect the interests of the Muslim world in the spirit of promoting international peace and harmony among various people of the world.
Disaster Reduction Goal
Disaster risk reduction is among the highest priorities of the OIC plan of action in the domains of humanitarian recovery and sustainable development. The majority of the population in the 57 member countries is extensively prone to natural disasters due to extensive exposure to natural hazards and other vulnerabilities. The hostile natural environment, climate change and man-made degradation are among the causes of the disasters in OIC member states, as in so many regions.
Building resilience on the experienced disasters is one of the major areas where OIC is aiming to work closely with its member states and other partners. Developing a culture of prevention and preparation to reduce country members' vulnerabilities to risks is central. If natural disasters could not always be prevented, working to mitigate their impact in order to save lives, protect livelihoods and investments could help to face the natural and related disasters and their effects.
PO BOX 178, Jeddah 21411 kingdom of Saudi Arabia / 21411 Jeddah Saudi Arabia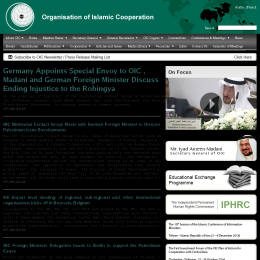 Badges