Mission
The Climate Leadership Initiative (CLI) is a program of The Resource Innovation Group (TRIG), a 501c(3) non-profit based in Eugene, Oregon. CLI was established in 2005 with a specific mission of fostering the development and application of innovative thinking and approaches to the complex causes and solutions to climate change. From its founding through 2010, CLI was a joint program of TRIG and the Institute for a Sustainable Environment at the University of Oregon. Today, CLI is engaged in partnerships with a number of academic institutions, non-profits, private companies and government agencies nationwide. CLI is focused on addressing the challenge of climate change adaptation and preparedness through policy analysis, model projects, advisory services and training.
Disaster Reduction Goal
CLI works primarily on climate adaptation initiatives, but recognizes the nexus of objectives between CCA and DRR. Our community-based adaptation model (Climate Futures Forums) and our Resilience Regionalism projects integrate well with natural hazard mitigation and preparedness objectives at the community and sub-state regional scale within the United States.
Websites
http://www.climateleadership.org
540 Oak Street, Suite E 97401 Eugene, OR United States of America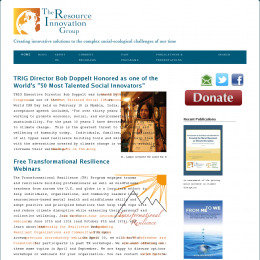 Badges
Conferences:

- 2019 Global Platform