Mission
CSR Asia is the leading provider of information, training, research and consultancy services on sustainable business practices in Asia. Our regional presence and business partnership network enables us to provide independent and cutting edge services and expert insight into the Corporate Social Responsibility (CSR) issues facing companies in Asia. Our principal sources of funding come from our Strategic Partners, training and conferences, advisory/consultancy services and advertising.
Disaster Reduction Goal
Goal: Contribute to strategic involvement of business in DRR and enhance public-private engagement
We help define the role of business in tackling global challenges such as poverty,vulnerability to climate change and natural hazards, food insecurity, or the destructions of ecosystems and biodiversity.
We contribute to engaging business in development agendas and help building partnerships between the business sector and organisations working on community development, environmental conservation or disaster risk reduction.
Policies and Programmes in DRR
In 2014, CSR Asia will undertake several activities to build understanding on disaster risk reduction in the private sector and foster private sector engagement in various Disaster Risk Management areas. Specifically, CSR Asia will publish a number of reports and host a business roundtable as well as a Disaster Preparedness Forum.
Making disaster risk reduction a policy priority, institutional strengthening (HFA 1)
We provide action-oriented research and facilitate multi-stakeholder dialogues. We help build public-private engagement.
Reducing underlying risk factors (HFA 4)
We provide research and help engage business in addressing the underlying risk factors of natural hazards and climate change impacts on communities through their corporate social responsibility and philanthropy programs.
Other activities
Action-oriented research and facilitation of multi-stakeholder dialogues, business-roundtables and other fora to help enhance strategic business involvement in DRR agendas.
Office A, 15/F, Wing Cheong Commercial Building, 19-25 Jervois Street, Sheung Wan Hong Kong (China)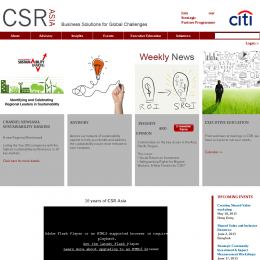 Badges