Mission
Saritsa has a mission to build capacity amongst most vulnerable people at grass root level. It envisages a paradigm shift in the present "Top to Bottom" approach to build capacity from "Bottom Upwards" where a larger number of poor are at the bottom of the pyramid for DRR internationally. It also believes and advocates harmonization of these approaches as well as equal allocation of resources.
Disaster Reduction Goal
Saritsa equips and empowers communities especially children, women, disabled, poor and ordinary citizens, who have no easy access to education and training to cope with disasters.
The mission involves advocacy, recognition and implementation of preparedness policies and plans for preparing vulnerable communities by reaching to their "Door Steps" with the teams of experts in villages, towns, states and remotest areas of India. It is a "Mobile University" for disaster risk reduction and minimizing impacts of climate change.
Flat No.3 , Pankaj Co operative Housing Society, Sitaram Keer Marg, near Lokmanya Vidya Mandir, Mahim (W) 400016 Mumbai India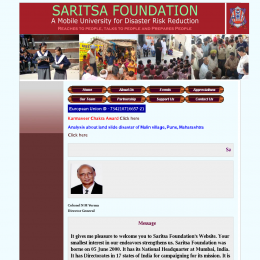 Badges
Conferences:

- 6th AMCDRR