Mission
RedR is an international disaster relief charity which trains aid workers and provides skilled professionals to humanitarian programmes worldwide, helping to save and rebuild the lives of people affected by natural and man-made disasters.
Disaster Reduction Goal
one of the RedR's strategic priorities is to address humanitarian needs through all stages of the disaster cycle. This means that we will reduce the risk of future diasters and build local resilience by working in disaster risk reduction and emergency preparedness, as well as response and recovery.
Policies and Programmes in DRR
at the moment RedR is delivering various training courses in the area od DRR like: Disaster management, commmunity based disaster risk reduction and disaster risk management.
Membership in Key Networks
Sphere, HAP, People in Aid
Making disaster risk reduction a policy priority, institutional strengthening (HFA 1)
by delivering training, RedR is building capacity of local NGOs as well as governments on disaster preparedness and risk reduction/ management.
Education, information and public awareness (HFA 3)
delivering training on DRR workdwide
Making Cities Resilient Campaign Activities
RedR has started a new project on urban emergencies addressing the disaster risk preparedness in urban context.
Websites
http://www.redr.org.uk
250a Kennington Lane SE11 5RD London United Kingdom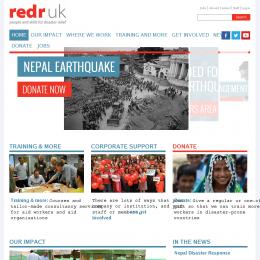 Badges