Mission
IFRC is the world's largest humanitarian organization, providing assistance without discrimination as to nationality, race, religious beliefs, class or political opinions. Its mission is to improve the lives of vulnerable people by mobilizing the power of humanity. Often, these are victims of natural disasters, poverty brought about by socio-economic crises, refugees, and victims of health emergencies.
Disaster Reduction Goal:
The sharp increase in the number of natural disasters worldwide in recent years has prompted IFRC to devote more attention to disaster preparedness activities. These aim to make National Societies and communities more aware of the risks they face, how to reduce their vulnerability, and how to cope when disaster strikes.
Making Cities Resilient Campaign Activities
IFRC is using a Vulnerability and Capacity Assessment Tool in rural areas, which will be extended to urban areas in the future as recommended in essential number 3 of the campaign. IFRC promotes cooperation between Red Cross societies and municipalities expanding the 10 Essentials message from the campaign.
Chemin des Crêts 17 1209 Geneva Switzerland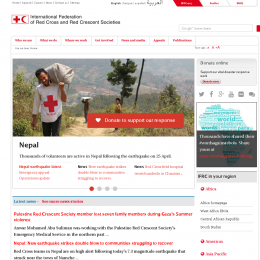 Badges
Conferences:

- Health and DRR Conference
- High Level Forum
- 2017 Global Platform
- 2019 Global Platform