Mission
As the learned society and professional body for geography, RGS advances geographic research, nationally and globally, to improve understanding of the connected world.
It supports teaching, educating people as local and global citizens in a rapidly changing world, through formal learning, fieldwork and expeditions.
It promotes the relevance of geography, recognising public interest in the world.
It fosters the recognition and understanding of geography to policy, placing it firmly in debates about the futures of places, environments and communities.
It promotes and develops Society membership and staff, supporting charitable activities and reinforcing the professional standards in geographical knowledge and skills.
Royal Geographical Society (with the Institute of British Geographers) 1 Kensington Gore SW7 2AR London United Kingdom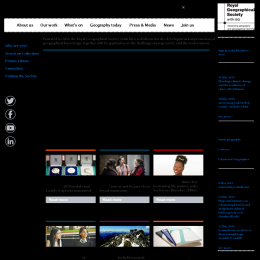 Badges