Mission
The Vancouver Sun and The Province, the two major daily papers in British Columbia, are published by Pacific Newspaper Group, a division of Postmedia Network Inc.
The Vancouver Sun has been a daily newspaper since 1912. The Province has been a daily since 1898. Both are award winners.
The Vancouver Sun, a broadsheet, publishes daily except Sundays and selected holidays. The Province, a tabloid, publishes daily except Saturdays and selected holidays.
#1 - 200 Granville Street V6C 3N3 Vancouver, British Colombia Canada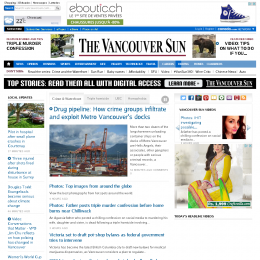 Badges