Mission
The Association of Southeast Asian Nations (ASEAN) was founded on 8 August 1967 in Bangkok with the signing of the Declaration by Indonesia, Malaysia, Philippines, Singapore, and Thailand. Brunei Darussalam joined ASEAN on 8 January 1984, Viet Nam on 28 July 1995, Lao PDR and Myanmar on 23 July 1997, Cambodia on 30 April 1999. ASEAN currently has 10 Member States. The highest decision-making body of ASEAN is the meeting of the Heads of the State of Government of the Member States – the ASEAN Summit. The ASEAN Charter came into force on 15 December 2008, making ASEAN a rules-based inter-governmental organization with a new legal and institutional framework.
The ASEAN Declaration states that the aims and purposes of the Association, among others, are to:
- Accelerate the economic growth, social progress and cultural development in the region through joint endeavors in the spirit of equality and partnership in order to strengthen the foundation for a prosperous and peaceful community of Southeast Asian Nations.
- Promote regional peace and stability through abiding respect for justice and the rule of law in the relationship among countries of the region and adherence to the principles of the United Nations Charter.
- Promote active collaboration and mutual assistance on matters of common interest in the economic, social, cultural, technical, scientific and administrative fields.
Disaster Reduction Goal
ASEAN has a strong commitment towards achieving a disaster-resilient ASEAN Community by 2015. Through the ASEAN Agreement on Disaster Management and Emergency Response (AADMER), it espouses a proactive approach to disaster management and sets in place regional policies, operational, and logistical mechanisms to enable ASEAN Member states to seek and extend assistance in times of disaster and carry out collaborative undertakings on disaster mitigation, prevention, preparedness, response, recovery, and rehabilitation.
Vision: Disaster-resilient nations and safer communities in the ASEAN region by 2015.
Goal: Substantially reduce loss of life and damage to economic, social, physical and environmental assets of ASEAN Member States caused by natural and human-induced disasters.
Policies and Programmes in DRR
The ASEAN Agreement on Disaster Management and Emergency Response (AADMER) is a multi-hazard legal and policy framework that will provide structures, mechanisms, and strategies for undertaking regional cooperation on disaster management. It also affirms ASEAN's commitment to the Hyogo Framework of Action (HFA) and is the first legally-binding HFA related instrument in the world. It complies and expands on HFA for 2005-2015 disaster resilience of nations.
The AADMER as a legal framework was translated into a WORK PROGRAMME that outlines activities & expected outputs, concrete actions & initiatives, to implement & operationalize the agreement, from 2010-2015. It serves as a concrete plan for multilateral cooperation and collaboration in disaster risk reduction in ASEAN. It was endorsed and adopted by the ASEAN Committee on Disaster Management (ACDM) in Singapore on March 2010 as a rolling plan.
14 Flagship Programmes under the AADMER:
1. Preparedness and Response
- ASEAN Disaster & Emergency Response Logistics System
- Fully-functional Emergency Rapid Assessment Team (ERAT)
- Finalisation and institutionalisation of Standard Operating Procedure for Regional Standby Arrangements and Coordination of Joint Disaster Relief and Emergency Response Operations (SASOP)
2. Risk Assessment, Early Warning & Monitoring
- ASEAN-wide Disaster Risk Assessment
- Satellite-based Disaster Monitoring System
- GIS-based Disaster Information-Sharing Platform for Early Warning
3. Prevention & Mitigation
- Building Disaster-Resilient ASEAN Cities
- Capacity-building for Community-based DRR
- Set-up Mechanisms for Risk Financing
4. Recovery
- Production of a Disaster Recovery Toolkit
5. Outreach & Mainstreaming
- Building a culture of disaster-resilience in ASEAN
6. Training and Knowledge Management Systems
- Identifying priority training needs
- Training of ASEAN Trainers and Subject Matter Experts for AADMER
- Setting up of an "ASEAN Resource Centre" as part of the AHA Centre
Membership in Key Networks
ASEAN Committee on Disaster Management (ACDM)
Making disaster risk reduction a policy priority, institutional strengthening (HFA 1)
- Implementation of the ASEAN Agreement on Disaster Management and Emergency Response (AADMER) Work Programme.
- Finalisation and institutionalisation of Standard Operating Procedure for Regional Standby Arrangements and Coordination of Joint Disaster Relief and Emergency Response Operations (SASOP)
- Set-up Mechanisms for ASEAN Risk Financing & Insurance Strategy
Risk assessment and early warning systems (HFA 2)
- ASEAN-Wide Disaster Risk Assessment Programme
- Satellite-based Disaster Monitoring System
- GIS-based Disaster Information-Sharing Platform for Early Warning
Education, information and public awareness (HFA 3)
- Training of ASEAN Trainers and Subject Matter Experts for AADMER
- Setting up of an "ASEAN Resource Centre" as part of the AHA Centre
- Development of the ASEAN DRR Portal website as a resource on DRR in ASEAN
- Building Disaster-Resilient ASEAN Cities
- Production of IEC Materials to increase awareness on AADMER
Reducing underlying risk factors (HFA 4)
- Capacity-building for Community-based DRR
- Technical support in the enforcement of building and land-use regulations in pilot cities
- Development of DRR Action Plans, including climate change adaptation
Preparedness for effective response (HFA 5)
- ASEAN Disaster & Emergency Response Logistics System
- Fully-functional Emergency Rapid Assessment Team (ERAT)
- Production of a Disaster Recovery Toolkit
Disaster Risk Reduction Focal Point(s)
Ms. Adelina Kamal
Head of Disaster Management & Humanitarian Assistance Division, ASEAN Secretariat
Email: lina@asean.org
Websites
http://www.asean.org
http://www.aseandrr.net
The ASEAN Secretariat, 70A, Jalan Sisingamangaraja 12110 Jakarta Indonesia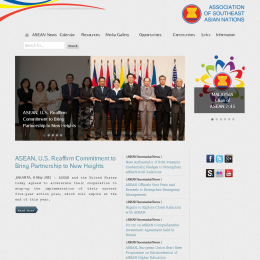 Badges
Conferences:

- 6th AMCDRR
- Health and DRR Conference
- AMCDRR 2016