Mission
ADB is a multilateral development finance institution dedicated to reducing poverty in Asia and the Pacific. Established in 1966, ADB is now owned by 67 members - of which 48 are from within Asia and the Pacific and 19 outside.
Disaster Reduction Goal
To support the developing member countries in achieving poverty reduction, sustaining economic growth, reducing disaster losses, and enhancing natural resource management through investments in disaster resilience.
Policies and Programmes in DRR
ADB's work in disaster risk management is guided by its Disaster and Emergency Assistance Policy (DEAP, 2004), which establishes a series of objectives focusing on:
• strengthening support for reducing disaster risk in developing member countries;
•providing rehabilitation and reconstruction assistance following disasters; and
•leveraging ADB's activities by developing partnerships.
The Disaster and Emergency Assistance Policy is being implemented through an integrated disaster risk management (IDRM) approach that bring together the elements of disaster risk reduction (DRR), climate change adaptation (CCA), and disaster risk financing (DRF) within an overarching context of resilience.
Disaster Risk Reduction Focal Point(s)
Charlotte Benson
Senior Disaster Risk Management Specialist
Public Management, Governance and Participation Division
Regional and Sustainable Development Department
Email: cbenson@adb.org
Websites
http://www.adb.org/themes/governance/disaster-risk-management
6 ADB Avenue 1550 Mandaluyong City Philippines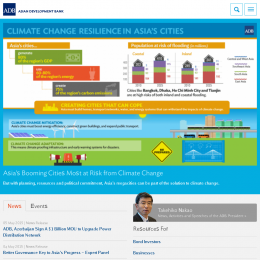 Badges
Conferences:

- 6th AMCDRR
- UNISDR Science and Technology Conference
- 2017 Global Platform
- AMCDRR 2016
- 2018 AMCDRR
- 2019 Global Platform