Mission
The World Federation of Engineering Organizations (WFEO) is committed to the advancement of the world engineering profession for the benefit of mankind. It particularly works to assist development of the engineering profession, and in the sharing, exchange and transfer of technology from one country to another.
Disaster Reduction Goal
Provide for the protection, security and health of the public by the assessment and dissemination of technologies for the control of risk and the prevention and reduction of damages due to man-made and natural disasters.
Maison de l'UNESCO 1, Rue Miollis 75732 Paris Cedex 15 France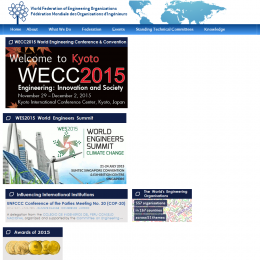 Badges