Mission
CIEDM's missions include:
- Advocate grass-root initiative for sustainable & adaptive environment;
- Promote individual's eco-lifestyles and actions to save resources and reduce climate/environmental/geological hazards & disasters;
- Facilitate green buildings & sustainable development;
- Bridge green education and business between the U.S. & Asia.
Disaster Reduction Goal
Sponsor Educational Workshops on community-based disaster preparedness, reduction and recovery
Sponsor an annual event on the International Day for Disaster Reduction
Membership in Key Networks
Great California ShakeOut
Southern California Earthquake Country Alliance Associates
Global Network for Disaster Reduction
The Climate Reality Project
Making Cities Resilient Campaign Activities
Delivered speeches on the subject of blue urbanism+regionalism for resilient communities in several colleges & universities in China since 2011. The speeches aim to raise public awareness of that disasters often not just come from a community itself but from unsound regional development that causes environmental degradation & breakdown. Investment in building "defensive"communities for resilience may not be able to keep them disaster free. Efforts shall be placed on environmental sensitive planning & development for the region overall.
Disaster Risk Reduction Focal Point(s)
Pre-disaster
- Preparedness education
- Planning & design for resilient, adaptive & sustainable development
Post-disaster
- Reconstruction & redevelopment
Websites
www.ciedmusa.com
www.iseriusa.org
http://zh.netlog.com/ehuang1329
http://www.linkedin.com/pub/edward-huang-黄铁/12/492/52a
8th Ave. 91006 Arcadia, California United States of America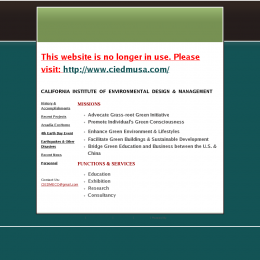 Badges