Mission
IISD's mission is to promote human development and environmental sustainability through innovative research, communication and partnerships. The institute has offices in Canada, Switzerland and the United States, and operates in over 70 countries around the world.
Disaster Reduction Goal
Strategies, tools and policy advice for effective responses to the impacts of climate change on people, societies, economies and the environment.
Community-level risk screening to identify and prioritize climate risks and livelihood resources most important for climate adaptation (i.e., adaptation to climate variability and change).
111 Lombard Avenue, Suite 325 R3B 0T4 Winnipeg, Manitoba Canada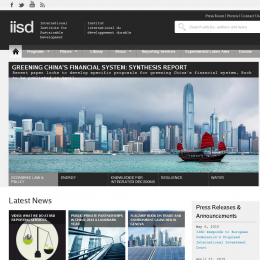 Badges
Conferences:

- 6th AFRP and 5th High-Level Meeting on DRR
- 2019 Global Platform