Mission
The Government of Pakistan established the Earthquake Reconstruction and Rehabilitation Authority (ERRA) on October 24, 2005 to take up the mammoth task of rebuilding nine earthquake affected districts of AJ&K and KP spread over 30,000 square kilometers. ERRA is a hybrid organization comprising civil servants, technocrats, armed forces personnel and contractual employees.
ERRA's mission is to "Convert Adversity into Opportunity" by reconstructing lost and destroyed facilities, while following highest standards of reconstruction and rehabilitation with an obligation to "Build Back Better".
Disaster Reduction Goal
ERRA was created to bring all efforts and activities, pertaining to post disaster damage assessment, reconstruction and rehabilitation in the affected areas under one umbrella, with a view to providing fast track and seismically safe reconstruction solutions.
The Authority is responsible for macro planning, strategy formulation, financing, project approval and monitoring and evaluation. Additionally, it ensures required coordination and provides facilitation to implementing partners, leaving physical implementation of projects to respective governments. ERRA seeks to achieve disaster reduction through sustainable development by raising resilient socio-economic infrastructure and promoting a culture of preparedness amongst vulnerable populations.
Policies and Programmes in DRR
Through its reconstruction portfolio ERRA has intervened in 12 different sectors (Housing, Livelihood, Social Protection, Health, Education, Water & Sanitation, Governance, Power Generation, Telecommunication, Transportation, Environment and Tourism); implemented 3 cross-cutting themes (DRR, Gender Mainstreaming and Environmental Safeguards), and is required to reconstruct over 13,000 projects (at a cost of over US $ 5 billion).
Preparedness for effective response (HFA 5)
Disaster Risk Management Programme (DRMP) (Making Resilient Communities) in line with HFA -5
In the aftermath of Earth Quake 2005, during the reconstruction process ERRA took a unique initiative of creating awareness among the communities by imparting CBDRM training and educating line departments of EQ districts on mainstreaming DRR in District Planning Process. To make the communities resilient and enhance their sustainability stockpiles of Emergency Response Tools were also established down to union council level. The programme had three main objectives. First, to raise awareness and build capacity of the local communities by providing stock piles of emergency response tools. Second, to Mainstream Disaster Risk Reduction in district planning processes and third, to provide Hazard and Risk Maps along with other related information to district authorities.
The programme achieved following results;
• Imparted CBDRM training to 19,226 community volunteers in 303 Union Councils and constituted 303 UCDMCs & UCERTs in the nine EQA districts.
• Built stockpiles of Emergency Response Tools in 303 Union Councils and established four regional hubs of stockpiles at Muzaffarabad, Bagh, Mansehra and Battagram. Published a Guide Book on storage, safety, security and maintenance of stockpiles items.
• Sustainability for AJ&K and KP Stockpiles Signed MoUs with both the Governments.
• Organized Mainstreaming DRR Workshops in nine EQA districts and published a Mainstreaming Guide Book to help/educate district development planners in implementing risk conscious approaches.
• Prepared Hazard Indication Maps for Mansehra and Muzaffarabad Districts for better land use planning.
• Established DRR Chairs at AJ&K and Hazara Universities.
• Capacity building of SDMA (AJ&K) and PDMA (KP) through provision of latest office equipment for smooth functioning.
• Sustainability and safe repository of results, Signed a Memorandum of Understanding (MoU) with National University of Sciences and Technology (NUST), Islamabad.
The programme has been completed with total satisfaction and within stipulated time lines without any hick ups. The fact that ERRA DRM model has been accepted for replication in rest of the country and adaptation by several INGOs implementing CBDRM in flood affected areas, bare testimony to its fecundity. UNISDR has also included DRMP in their best practices.
Making Cities Resilient Campaign Activities
ERRA Rural Housing Program which Won the International UN SASAKAWA AWARD is an example of providing sesimically safe housing in the earthquake affected areas of KP and AJK. Details available on website
ERRA, Murree Road 44000 Islamabad Pakistan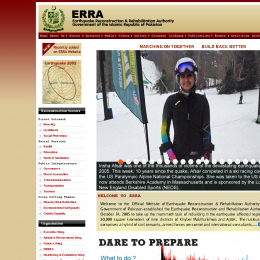 Badges