Mission
UN Water is the United Nations system's coordination mechanism on water issues. It also includes major non-UN partners who cooperate with them in advancing progress towards the water-related goals of the Water for Life and Millennium Declaration.
The chairmanship of UN-Water rotates amongst its members every two years. The Secretary is based at the UN Secretariat at the Department of Economic and Social Affairs
Disaster Reduction Goal
One of the main themes the UN entities that make up UN-Water deal with is disaster risk reduction. UN-Water offers a platform for the UN system to address water related disaster risk reduction in a coordinated way.
Two UN Plaza 10017 New York United States of America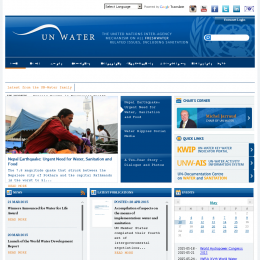 Badges