Mission
MCEER is a national center of excellence dedicated to the discovery and development of new knowledge, tools and technologies that equip communities to become more disaster resilient in the face of earthquakes and other extreme events. MCEER accomplishes this through a system of multidisciplinary, multi-hazard research, in tandem with complimentary education and outreach initiatives.
Education, information and public awareness (HFA 3)
From March 2010 through August 2011, MCEER collaborated with Université Quisqueya (UniQ) in Port-au-Prince, Haiti, to deliver a series of educational training programs in earthquake engineering. This educational capacity development strategy targeted practicing engineers, architects, graduate students and senior undergraduate students, in an effort to expand local expertise in Haiti. The program delivered four French-language seminars within a 16-month period, addressing 9 different earthquake engineering topics. In all, more than 500 (an estimated >50%) in the Port-au-Prince structural design community participated in the program. Targeted sector included 58 engineers from Haiti's Ministry of Public Works, Transport and Communications (MTPTC).
University at Buffalo, State University of New York, 133A Ketter Hall, Buffalo 14260 New York United States of America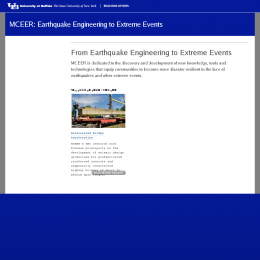 Badges