Mission
To provide a response adapted to specific needs
ACTED's vocation is to support vulnerable populations worldwide and to accompany them in the construction of a better future.
The programmes implemented by ACTED (around 150 per year), in Africa, Asia, Middle East and Latin America/Caribbean, aim at addressing the needs of the populations affected by wars, natural catastrophes and/or economical and social crises.
Our interventions seek to cover the multiple aspects of humanitarian and development crises through a multidisciplinary approach which is both global and local, and adapted to each context.
Disaster Reduction Goal
Vision: to guarantee the link between Emergency, Rehabilitation and Development
Once basic needs have been covered, the population's living conditions remain critical given that our areas of intervention are among the poorest in the world. For this reason, ACTED's axis of intervention lies in the link between Emergency, Rehabilitation and Development. In other words, in order to guarantee the sustainability of interventions carried out during crises, only a long-term support - through remaining on the field after the emergency and involving the communities - enables us to break the poverty cycle and accompany the populations on their way to development.
33 rue Godot de Mauroy 75009 Paris France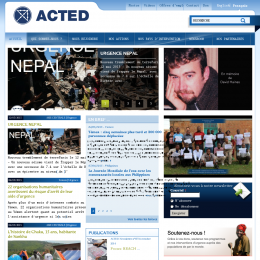 Badges
Conferences:

- 2019 Global Platform