Mission
AC Consulting Group was established in 1990 (as AC Power Group) to provide a specialist consulting and engineering design service, initially in the high voltage electric power transmission and distribution area, with particular emphasis on civil, structural, electrical and seismic engineering.
Mergers with well-respected consulting engineers Sheppard Partners (1994) and Ian Macallan & Co Ltd (1996) have expanded the company's expertise to include hospital and tourism development, schools, communication & broadcasting, water resources, port/harbour engineering, roading and bridges, geotechnical studies, SCADA and communications work, and project design & management.
Directors and shareholders agreed in early 1997 to change the group's name to AC Consulting Group Limited to more accurately reflect the broader scope of its current engineering and project management work.
Level 2, 160 Lambton Quay Wellington New Zealand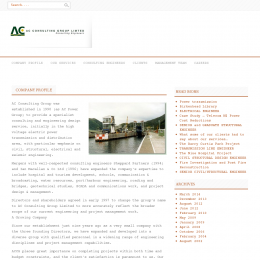 Badges