Mission
VOICE is a network representing some 90 European NGOs active in humanitarian aid worldwide. Unlike its members, it is not operational, but seeking to involve its members in information, training, advocacy and lobbying. VOICE is the main NGO interlocutor with the European Union on emergency aid, relief, rehabilitation and disaster risk reduction.
Disaster Reduction Goal
VOICE coordinates a Working Group of humanitarian NGOs involved in DRR, comprising 25 organisations from 10 European countries. The DRR Working Group seeks to contribute to and improve European institutions' policy and practice on DRR within the context of the implementation of the Hyogo Framework of Action.
43, Avenue Louise 1050 Brussels Belgium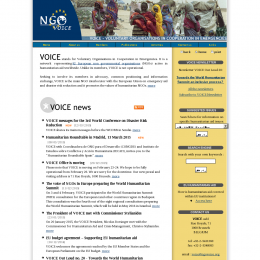 Badges