Mission
InterAction is the largest coalition of U.S.-based international non-governmental organizations focused on the world's poor and most vulnerable people. Collectively, InterAction's more than 190 members work in every developing country. Members meet people halfway in expanding opportunities and supporting gender equality in education, health care, agriculture, small business, and other areas.
Policies and Programmes in DRR
InterAction's DRR Working Group promotes mainstreaming of DRR among its international NGO membership and the broader humanitarian community.
Disaster Risk Reduction Focal Point(s)
Abby Bruell
Websites
http://www.interaction.org
http://www.interaction.org/files/FABB%202013_Sec14_DisasterRiskReduction.pdf
1400 16th Street, NW, Suite 210 20036 Washington, DC United States of America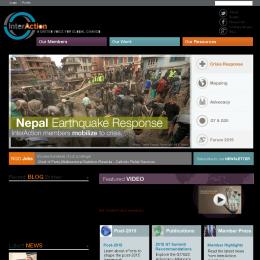 Badges
Conferences:

- 2017 Global Platform