Mission
The Aga Khan Planning and Building Service, Pakistan is an agency of the Aga Khan Development Network (AKDN).
The Aga Khan Planning and Building Services (AKPBS) works to improve the built environment, particularly housing design and construction, village planning, natural hazard mitigation, environmental sanitation, water supplies, and other living conditions. AKPBS achieves these goals through the provision of material and technical assistance and construction management services for rural and urban areas.
Disaster Reduction Goal
Promote safer communities and advancement
of sustainable development through reduction
of hazard risks and vulnerabilities.
Policies and Programmes in DRR
The Habitat Risk Management Programme (HRMP) aims to build the resilience of communities to hazard risks (both natural and human induced hazard risks); to mainstream disaster reduction into development (social, economic, physical and ecological); and to promote gender equity by involving women as decision makers in the entire programme planning execution and maintenance processes.
HRMP emphasizes the integration of risk reduction into development through implementing structural and non-structural risk mitigation strategies. The physical interventions include seismic retrofitting of existing structures and support for the construction of new disaster resistant rural houses. The non-structural risk mitigations include the formation of Village Planning and Development Organizations (VPDOs); awareness-raising on disaster risk reduction; capacity building (training of female youth in village mapping, and artisans in safe constructions/seismic retrofitting); and technical advice (retrofitting, new constructions and land use planning). Overall, the programme promotes an integrated approach of dealing with hazard risks in a way that substantial reduction of disaster losses, in lives and in the social, economic and environmental assets of communities could be secured.
Since its inception the HRMP has attempted to secure the lives and livelihoods of approximately 13,000 people in the Ishkoman/Ponial Valleys of District Ghizar, Northern Areas, Pakistan from future disasters, particularly earthquakes through executing the Disaster Risk Reduction (DRR) activities such as:
• Seismic retrofitting of 27 private housing units, 4 schools and 1 hospital in District Ghizer, Northern Areas;
• Land-use planning workshops in the project villages; trained 13 local female youth in village mapping, documentations hazard mapping and vulnerability assessment in three villages of District Ghizer;
• 50 artisans (masons/ carpenters) trained in safe construction trades and seismic retrofitting;
• PRA workshops on DRR conducted in three hazard prone villages in Gilgit – Gich, Chatorkhand and Faizabad-Ishkoman;
• DRR awareness raising workshops and safety drills conducted in 15 schools in Northern Area, Pakistan (962 children and teachers participated);
• the Islamabad Declaration on School Safety 2008 – an outcome of a Conference organized by AKPBS,P and FOCUS – urged the government and civil society to dedicate resources for protecting children through safe school planning and construction
Websites
http://www.akdn.org/akpbs_pakistan.asp
Suite 310-311, Kassam Court, BC-5, Block 9, Clifton, Karachi, Pakistan 75600 Karachi Pakistan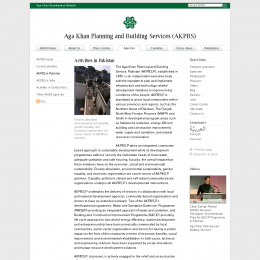 Badges