Mission
Founded at the height of the Cold War by David M. Abshire and Admiral Arleigh Burke, CSIS was dedicated to finding ways to sustain American prominence and prosperity as a force for good in the world. Since 1962, CSIS has become one of the world's preeminent international institutions focused on defense and security; regional stability; and transnational challenges ranging from energy and climate to global health and economic integration.
Policies and Programmes in DRR
The CSIS Program on Crisis, Conflict, and Cooperation (C3) is a leading source of analysis on societies affected by crisis and conflict and makes recommendations on cooperative strategies for crisis response and conflict management.
Websites
http://www.csis.org
http://csis.org/program/c3
1800 K Street, NW 20006 Washington, DC United States of America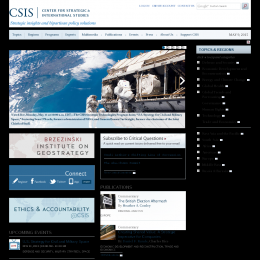 Badges