Mission
The International Recovery Platform (IRP) was conceived at the World Conference on Disaster Reduction (WCDR) in Kobe, Hyogo, Japan in January 2005. As a thematic platform of the International Strategy for Disaster Reduction (ISDR) system, IRP is a key pillar for the implementation of the Hyogo Framework for Action (HFA) 2005-2015. The key role of IRP is to identify gaps and constraints experienced in post disaster recovery and to serve as a catalyst for the development of tools, resources, and capacity for resilient recovery. IRP is a joint initiative of the UN System, International Financial Institutions, national governments including the Government of Japan, local governments such as Hyogo Prefectuel Government, and other organizations engaged in post disaster recovery and wanting to help transform disasters into opportunities for sustainable development.
Disaster Reduction Goal
To integrate risk reduction into post disaster recovery as mandated in the HFA; to provide a coordination framework and network for post-disaster recovery and needs assessment; to facilitate the dissemination of lessons learned and the development of common tools and mechanisms; to provide advice and support on the formulation of post-disaster recovery planning and programming; to strengthen national capacities; to facilitate South-South co-operation.
Reducing underlying risk factors (HFA 4)
Mainstreaming DRR into development
Websites
www.recoveryplatform.org
Hitomiraikan 5F, 1-5-2 Wakinohamakaigan-dori 651-0073 Chuo-ku, Kobe Japan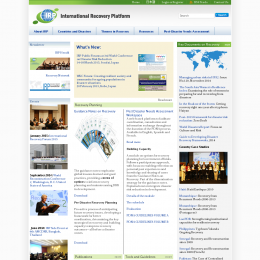 Badges
Conferences:

- 6th AMCDRR
- 2017 Global Platform
- AMCDRR 2016
- 2018 AMCDRR
- 2019 Global Platform