Mission
The main purpose of the EDM is to produce "Frontier Research on Earthquake Disaster Mitigation for Urban Regions." The major research activities are performed by three research teams: the disaster process simulation team, the disaster information system team and the structural performance team.
#EDM has been abolished on March 31, 2011.
Disaster Reduction Goal
1) to enhance the safety and resiliency of the medical system
2) to develop IT-based tools for disaster mitigation
3) to build an international disaster-related knowledge dissemination system.
Websites
http://drh.edm.bosai.go.jp
http://eqtap.edm.bosai.go.jp
http://www.edm.bosai.go.jp/english/
http://www.kedm.bosai.go.jp/english/index.html
National Research Institute for Earth Science and Disaster Prevention, 3-1, Tenno-dai, 305-0006 Tsukuba, Ibaraki Japan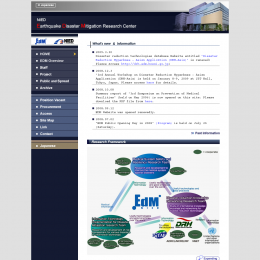 Badges