Mission
ESCAP is the regional development arm of the United Nations for the Asia-Pacific region. With a membership of 62 Governments, 58 of which are in the region, and a geographical scope that stretches from Turkey in the west to the Pacific island nation of Kiribati in the east, and from the Russian Federation in the north to New Zealand in the south, ESCAP is the most comprehensive of the United Nations five regional commissions.
Policies and Programmes in DRR
Tsunami Regional Trust Fund
The Tsunami Regional Trust Fund was established by ESCAP in 2005. The destructive Indian Ocean Tsunami that occurred in December 2004 stressed the need for an effective regional disaster preparedness mechanism in the Indian Ocean and Southeast Asia. The Trust Fund contributes to narrowing the capacity gaps in the region and ensures the development of an integrated regional early warning system.
Contact: pmd.unescap@un.org
Website: http://www.unescap.org/pmd/tsunami_index.asp
The United Nations Building, Rajadamnern Nok Avenue 10200 Bangkok Thailand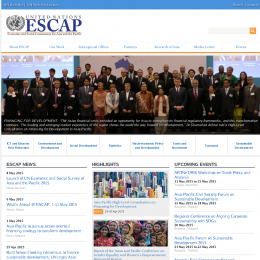 Badges
Conferences:

- 6th AMCDRR
- Health and DRR Conference
- AMCDRR 2016
- 2017 Global Platform
- 2018 AMCDRR
- 2019 Global Platform