Mission
REACH engages throughout the cycle of an emergency, from preparedness to recovery, applying an approach that links relief, rehabilitation and development. REACH's activities are grounded in a strategic framework organised around three pillars that are aligned with the Humanitarian Program Cycle.
Before a crisis, REACH assesses risks related to conflicts and disasters ; contributes to inter-agency contingency planning ; and informs and supports the establishment of early warning systems.
After an emergency, REACH supports better targeting and planning of relief assistance by facilitating rapid needs assessments as well as monitoring and evaluation of humanitarian interventions.
For longer-term recovery and development, REACH supports governments and aid actors in gaining a better understanding of communities (including social,economic and environmental characteristics) in order to promote aid that builds community resilience.
International Environment House n.2 Chemin de Balexert 7 1219 Châtelaine, Geneva Switzerland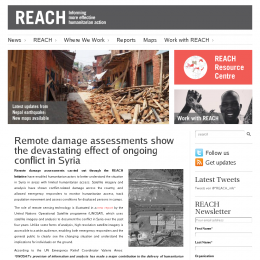 Badges