Mission
The Association for Women's Rights in Development (AWID) is an international, feminist, membership organization committed to achieving gender equality, sustainable development and women's human rights. A dynamic network of women and men around the world, AWID members are researchers, academics, students, educators, activists, business people, policy-makers, development practitioners, funders, and more.
Vision
A world where human rights and freedoms, environmental sustainability and gender justice are a lived reality for all people and the planet.
Mission
To be a driving force within the global community of feminist and women's rights activists, organizations and movements, strengthening our collective voice, impact and influence to transform structures of power and decision-making and advance human rights, gender justice and environmental sustainability.
215 Spadina Ave, Suite 150 M5T 2C7 Toronto, Ontario Canada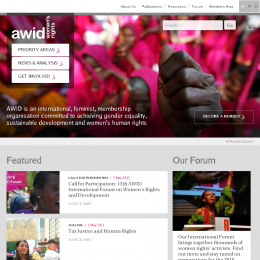 Badges