Mission
The CRES scientific steering group and principal investigators (PI's) consists of researchers with excellent international track records. The institutions and research groups involved have extensive experience of collaboration in various large scale projects and ongoing national and multinational projects, including a strong networking with leading international scientists and leading positions in IPCC WG I, II and III. Members of the team can document results with high impact to climate research, published in leading journals, including Nature and Science. The team comprises a large international network, and all CRES members and PI's work at institutions with well equipped state-of-the-art laboratories/model tools, with a world-class reputation for the type of measurements/experiments required.
A number of key National stakeholders like the Danish Water and Waste Water Association (DANVA), Local Government Denmark (KL), Danish Insurance Association and the Knowledge Centre for Agriculture are also part of the CRES consortium.
CRES collaborates with the Coordination Unit for Research in Climate Change Adaptation (KFT)and the Information Centre for Climate Change Adaptation.


The mission of CRES is to establish a coordinated research effort of high relevance to societal preparedness for climate change and to enhance Denmark's contribution to international climate change research. Moreover, CRES aims to reach out beyond its core group and create new national and international synergies between current and planned research activities in climate research and adjacent fields.
Danish Meteorological Institute, Lyngbyvej 100 2100 Copenhagen Denmark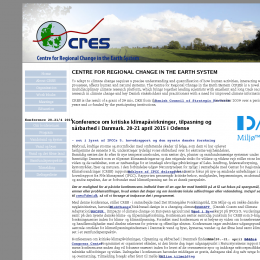 Badges