Mission
Provide information, networking, educational & professional development opportunities to African-American, and African-Descent emergency managers. To advance the emergency management and homeland security profession.
To assist and ensure diversity and community involvement in all phases of emergency management to include grant opportunities, training, preparedness, etc. with emphasis on the long-term recovery of the community.
Disaster Reduction Goal
Development and strengthening of mechanisms and capacities at the community level to build resilience to hazards.
Policies and Programmes in DRR
Whole community approach using all members of a community:
disabled, children, senior citizens, ex-offenders in additional to responders (first and follow-on) in implementing emergency management and disaster reduction for communities.
Membership in Key Networks
www.infragard.org
http://www.emforum.org/images/EMForumBanner.jpg
http://reliefweb.int/
http://cemr-network.org/
Making disaster risk reduction a policy priority, institutional strengthening (HFA 1)
-Participate and attend national advisory councils (Department of Homeland Security, National Infrastructure Advisory Council), Federal Emergency Management Agency National Advisory Council to ensure national priorities at the community level.
Risk assessment and early warning systems (HFA 2)
Ensure association members have identified, assessed, and monitored disaster risks in their communities and established a warning system (Alert System) by utilizing risk/hazard vulnerabilities, establishing a local emergency planning committee (LEPC) to ensure major risks are addressed within their community.
Education, information and public awareness (HFA 3)
Ensure and promote member expertise, knowledge, job functions, skills, and abilities are used to enhance disaster resilience and emergency management preparation, planning, and implementation within their communities.
Reducing underlying risk factors (HFA 4)
Ensure members understand each HFA Priorities to enhance awareness of risk factors within community and have addressed risks in preparedness plans for their communities.
Preparedness for effective response (HFA 5)
Promote, attend, and sponsor disaster, crisis, risk, emergency and environmental management forums, conferences locally, nationally, and internationally.
Promote training and interaction at the community level to ensure participation in disaster risk reduction, and all levels in the principles of emergency management.
Disaster Risk Reduction Focal Point(s)
Cultural diversity, age, and vulnerable groups must be taken into consideration when preparing, planning for disaster risk reduction.
Websites
www.DHS.gov
www.FEMA.gov
www.Training.fema.gov
1231 Good Hope Road S.E. 20020 Washington, D.C. United States of America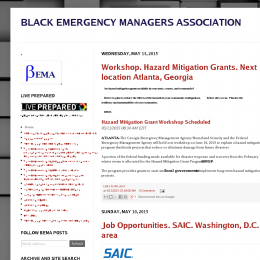 Badges
Conferences:

- 2017 Global Platform