Mission
The Center for Security Studies (CSS) at ETH Zurich is engaged in the study of Swiss and international security studies. Its activities are structured into the four pillars of research, teaching, think tank, and the International Relations and Security Network (ISN). The CSS conducts independent research in the field of security and strategic studies. Based on that research, it elaborates analyses and recommendations for political decision-makers, public administrations, policymaking research institutes, and the general public.
Research activities activities related to disaster risks are organized throught the Risk and Resilience Team. This team is engaged in research and policy consulting on a range of fields that centre on risks, particularly socio-technical hazards, and the way in which these risks are mitigated by human actions or management practices.
Disaster Reduction Goal
The CSS is interested in creating new ways to think about and address today's complex challenges. To this end the team draws on a multidisciplinary background from the social (political sciences, anthropology, etc.) and natural sciences, and combines these disciplinary backgrounds and research proficiency to tackle policy-relevant problems relating to complex risks.
Policies and Programmes in DRR
The CSS has a variety of partners across academia, the private sector, and government, including a close collaboration with the Swiss Federal Office for Civil Protection. Furthermore, the team is engaged in a number of international collaborations, including the EU research project 'Pop-Alert'.
Disaster Risk Reduction Focal Point(s)
The work of Risk and Resilience Team is focused on three main focal points:
Socio-Technical Resilience:
Socio-technical systems refer to the interactions and relationship between society's complex infrastructures, or their built environment, and human behavior. The team's work aims to deepen the understanding of socio-technical resilience by engaging various points of inquiry: for example, how are socio-technical systems affected by crises; where does resilience come from; how it is developed; can it be measured?
Risk and Crisis Management:
The Risk and Resilience Team is increasingly interested in developing an understanding of risk and crisis communication. Both are fundamental mechanisms that managers use to communicate relevant information to society. However in today's world, information sharing is dynamic, multidirectional, and cross-platform. The team is interested in how risk and crisis communication processes and practices are being altered in the modern communication space, one that is characterized by speed, technology, and citizen participation.
Critical Infrastructure Protection and Cybersecurity:
Critical infrastructures can be social or technical systems that serve the critical needs of modern society. The team's work within this area examines the governance mechanisms in the management and protection of critical infrastructures as well as the resilience of such systems during crises, disruptions, or emergencies. It connects this work specifically with the issue of cybersecurity, drawing from complex systems theory to deepen an understanding of cyber issues and to assess the opportunities and limitations of managing risks in cyber space.
Websites
http://www.css.ethz.ch/policy_consultancy/policy_consultancy/Risk_and_Resilience/index_EN
https://ethz.academia.edu/RiskandResilienceResearchTeam
https://www.researchgate.net/profile/Florian_Roth2
Haldeneggsteig 4, IFW 8006 Zurich Switzerland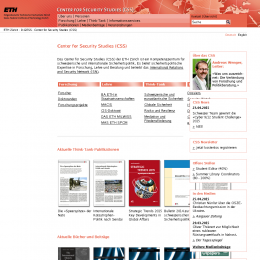 Badges
Conferences:

- UNISDR Science and Technology Conference
- 2019 Global Platform