Mission
ActionAid is an international anti-poverty agency working in over 40 countries, taking sides with poor people to end poverty and injustice together. Formed in 1972, it has been growing and expanding for nearly 40 years.
Disaster Reduction Goal
ActionAid's work on Disaster Risk Reduction aims to reduce the impact of disasters and climate change on poor communities by empowering them to anticipate and withstand disasters and monitor and facilitate national government action on DRR (in line with the Hyogo Framework for Action).
Policies and Programmes in DRR
ActionAid is currently implementing DIPECHO projects in Afghanistan and Bangladesh and working on a DFID-PPA project in these two areas as well as Nepal, Ethiopia, Malawi and Kenya developing resilience indicators. ActionAid is also working in a South Asian regional consortium with OXFAM and Handicap International developing an inclusive CBDRM model. ActionAid works strategically in 17 countries within its federation on DRR and CCA-related programming and activities.
ActionAid implmented a Disaster Risk Reduction through Schools project (funded by DFID and the Greek government) in India, Bangladesh, Nepal, Kenya, Haiti, Ghana, Malawi, Zambia and DRC. The project ended in December 2010.
DRR also forms a fundamental component of all ActionAid's response and rehabilitation work following diasters, eg.Haiti earthquake and Pakistan floods
In 2007 ActionAid was awarded a Certificate of Distinction in the Sasakawa Award by UNDRR in recognition of its innovative approach to DRR and the integration of DRR into "national, sub-national, sectoral and community initiatives." ActionAid's work was commended for facilitating the "development and introduction of the Hyogo Framework as a component of these efforts in moving societies towards inclusive, intergrated strategies and plans for achieving sustainable development in the near future."
Membership in Key Networks
BOND DRR working group; Global Network for Disaster reduction, VOICE DRR working group
Disaster Reduction Focal Point(s)
Harjeet Singh, Intl coordinator for DRR & CCA harjeet.singh@actionaid.org or contact emergencies@actionaid.org
Websites
http://www.actionaid.org/
Making disaster risk reduction a policy priority, institutional strengthening (HFA 1)
• Local govt., educational officials, Parliamentarian stakeholder engagement information dissemination
• Community level PVA (Participatory Vulnerbility Analysis) exercises
• National level PVA exercises
• Brief national level budget analysis
• District development plan
• Mobilizing communities particularly women through PVA to contribute effectively in community discourse on DRR
• Development and mainstreaming DRR in school curricular at local level
• Active in influencing the reconstitution of National Platform and decentralising it in the regions
• Local and district level awareness raising activities
• Active in national level discourse in the development of the draft National Disaster Management Policy and stakeholder workshops
• DRR and CCA national level advocacy
Risk assessment and early warning systems (HFA 2)
• Community level PVA exercises
• National level PVA exercises
• Development of DRR community action plan
• PVA exercises conducted in 15 communities/schools and Action Plans formulated
• DRR materials and safety materials (handbook on disaster drills, video documentation of hazards/ impacts) produced and disseminated.
• District development plans developed
• Community Emergency Contingency plans as part of wet season preparedness submitted by community to authorities.
• Traditional coping and early warning systems being taught to the younger generation by the old
• DRR and CCA national level advocacy
Education, information and public awareness (HFA 3)
• Local govt., educational officials, Parliamentarian stakeholder engagement information dissemination
• Public dissemination / DRR campaign material
• Sensitisation training on DRR and CCA (workshops, radio broadcasts)
• DRR materials and safety materials (handbook on disaster drills, video documentation of hazards/ impacts) produced and disseminated
• First aid training and safety drills and distribution of first aid kits to 15 schools
• Development and mainstreaming DRR in school curricular at local level
• Local and district level awareness raising activities
• Learning events with a focus on global warming and climate change issues in villages through theatre
• Safety drills in 8 different locations along with training and practice sessions conducted
• Disaster preparedness training, including First Aid and survival skills training by Community Life Guards
• Awareness-raising through DRR clubs
• Traditional coping and early warning systems being taught to the younger generation by the old
• Training on DRR, climate change adaptation and HFA was conducted for civil protection committees
• Child club advocacy on water and sanitation practices
• DRR and CCA national level advocacy
Reducing underlying risk factors (HFA 4)
• Community level PVA exercises
• District and national level PVA exercises
• Capital works in school investments, including retrofitting and DRR measures
• DRR and CCA national level advocacy
Preparedness for effective response (HFA 5)
• Development of DRR community action plan
• Sensitisation training on DRR and CCA (workshops, radio broadcasts)
• Disaster preparedness training, including First Aid and survival skills training by Community Life Guards
• Safety drills in 8 different locations along with training and practice sessions conducted
• Community Emergency Contingency plans as part of wet season preparedness submitted by community to authorities
• Traditional coping and early warning systems being taught to the younger generation by the old
• School Management Committees & village disaster management committees were formed and trained on DRR issues around the 4 schools
•Conducted training on DRR, climate change adaptation and HFA for civil protection committees
PostNet suite #248, Private bag X31 2132 Saxonwold Johannesburg South Africa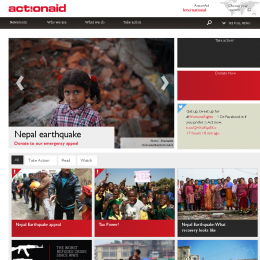 Badges
Conferences:

- AMCDRR 2016