Mission
AusAID manages the Australian Government's official overseas aid program.
Its objective is to help developing countries reduce poverty and achieve sustainable development. It also provides policy advice and support to the Minister and Parliamentary Secretary on development issues, and plans and coordinates poverty reduction activities in partnership with developing countries.
Disaster Reduction Goal
Australia's international DRR policy was released in 2009, with the overall policy goal of: reduced vulnerability and enhanced resilience of countries and communities to disasters.
There are four outcomes:
Disaster risk reduction is integrated into the Australian aid program;
The capacity of partner countries to reduce disaster risks is strengthened in line with the Hyogo Framework for Action;
Leadership and advocacy on disaster risk reduction are supported and enhanced;
Policies and programming for disaster risk reduction and climate change adaptation are coherent and coordinated.
255 London Circuit ACT 2601 Canberra Australia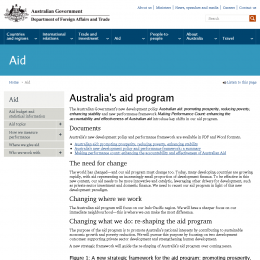 Badges