Mission
Mercy Corps' programs are market-driven and community-led. Mercy Corps' conceptual framework - the Vision for Change - emphasizes the importance of public, private and civic sector partnerships in boosting accountability, participation, and peaceful change, thereby leading to more secure, productive and just communities.
Disaster Reduction Goal
Mercy Corps Nepal works with partners at the community, school, VDC and district levels to support disaster preparedness, early warning systems, mitigation works, and response capacity. Where local response capacity is overwhelmed, Mercy Corps also supports emergency relief services as resources permit. Disaster risk reduction is also closely linked to climate change adaptation.
Policies and Programmes in DRR
School based disaster risk reduction
Early warning system
Integrating livelihood in DRR
Community based DRR
Membership in Key Networks
Disaster Preparedness Network
Risk assessment and early warning systems (HFA 2)
Establishment of community based early warning system
Education, information and public awareness (HFA 3)
School based DRR activities in 75 schools
Reducing underlying risk factors (HFA 4)
Integrating livelihood, PWD, children and women in DRR programmes
Preparedness for effective response (HFA 5)
Support local NGO and government for stockpiling NFRI materials
Enhancement of District Hydrology and Meteorology capacity for effective early warning system
Disaster Risk Reduction Focal Point(s)
Nabin Lamichhane
Sampras chowk Calorie, Nepal Nepal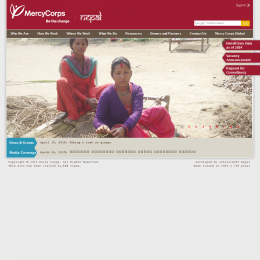 Badges
Conferences:

- 6th AMCDRR
- AMCDRR 2016
- 2019 Global Platform