Mission
Pattan is committed to mainstreaming marginalised and isolated communities, groups and women into political and economic decision-making processes at all levels through mobilisation, networking, capacity building and advocacy for structural and policy change.
Disaster Reduction Goal
To empower disaster-prone communities to make officials accountable in order to improve governance.
To enhance their capacities to reduce vulnerabilities of marginalised groups.
Policies and Programmes in DRR
Research-based advocacy to improve governance.
Women empowerment in disaster prone areas.
Risk/hazard and vulnerability mapping through PRA tools.
Membership in Key Networks
Asian Disaster Reduction and Response Network (ADRRN)
Global Network of Civil Society Organisations for Disaster Reduction
National Humanitarian Network, Pakistan (NHN)
Making disaster risk reduction a policy priority, institutional strengthening (HFA 1)
National Disaster Management Authorities
Risk assessment and early warning systems (HFA 2)
Vulnerability and hazard mapping through PRA tools on regular basis.
Education, information and public awareness (HFA 3)
Vulnerable groups i.e. women, elderly and children are informed about government policies, climate issues, HFA and DRR importance.
Reducing underlying risk factors (HFA 4)
Governance and accountability in DRR
Poverty, deprivation and marginalisation reduction
Preparedness for effective response (HFA 5)
Formation of DDR groups and their training
Other activities
Research-based advocacy on governance and poverty issues is a regular component as we believe this is fundamental to reduce risks.
Disaster Risk Reduction Focal Point(s)
Pattan is a founding memeber and focal organisation of ADRRN in Pakistan.
Pattan is a founding member and secretariat of NHN.
House 5, Street 58, F10/3 44000 Islamabad Pakistan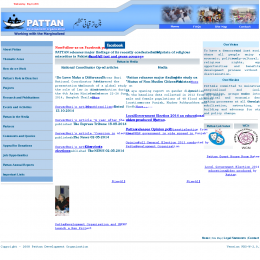 Badges
Conferences:

- 6th AMCDRR
- AMCDRR 2016
- 2017 Global Platform
- 2018 AMCDRR